FEATHER ( 1 ) hand-pulled original etching by Mark Lloyd Williams
Original hand-pulled etching printed on 300gsm Hahnemühle paper in traditional linseed oil / carbon black ink. Edition of 50, individually signed and numbered in pencil in the margin. No other limited editions will ever be produced.
IMAGE = 50 X 25cm. Paper larger by 15cm all round.
Etching prints are made by "burning" the design into a metal plate, which is then inked and placed onto a sheet of wet paper. The plate and paper are then run through a hand-cranked etching press, which applies massive pressure, transferring the image to the paper. The shape of the printing plate gets embossed into the paper at the same time.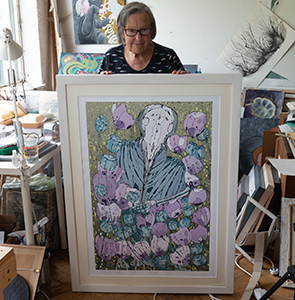 ALSO AVAILABLE FRAMED
As above, but in one of our superbly made, very substantial solid pine box frames. Artwork is mounted on thick bevel cut conservation grade board, glazed with 3mm optical grade cast acrylic (Preferred by most museums and galleries because it's stronger and safer than glass)
choose from matte black or matte white. Similar to this example
(UK DELIVERY ONLY on these, due to size & weight)